TUREX Lagersysteme GmbH, Fellbach, Germany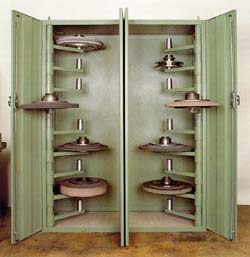 The growing emphasise on HMS (health, environment and safety) also within grinding has been met with safe and technically correct storage systems for grinding wheels.
Damage and/or injuries most often occur when the wheels are moved out of an upright storage on the floor, or in shelves -either by cracks on the wheel or by operator injuries. To avoid such incidences, TUREX storage systems offer very safe and compact storage.
All wheels are stored in a horisontal position to avoid unbalance - which otherwise appear when stored upright and coolant gathering in the bottom - to enable very compact storage (minimum floor space), safe handling and a good overview..
The storage systems are capable of handling wheels from Ø 300 (with up to 9 wheels stored) up to Ø 1100 (with 5 wheels). The largest system we have supplied handles flanged grinding wheels of Ø 915 x 100 mm, each with a weight of 265 kg.
While the smaller systems have a swing-out of the wheel (only one arm at the time), the larger ones have both swing-out and tilting, to enable the use of lift-up forkes. In particular, for such handling of wheels the risk of operator injuries are virtually elimineted.