We are very proud to represent some of the finest and highly reputed grinding machine manufacturers in Europe, all well known in the market for their dedication to quality, innovation and competitiveness:
KELLENBERGER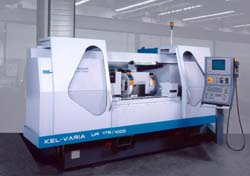 L. Kellenberger & CO. AG, St. Gallen, Sveits
A manufacturer with the highest reputation for their precision cylindrical grinding machines, ranging from hydraulic universal machines to a family of CNC-machines. All designed for external, internal and/or face grinding (in one single set-up) for tool room applications and for production grinding up to 4 axis controls, to accomodate thread grinding, unround grinding, etc. straight and at angles in single, small batch and full production grinding.
Apart from the universal aspect the machines are indeed flexible, modern and very compact in design to enable easy transport, quick installations and easy and fast set-up times. However, once placed on site the machine itself is being completely separated from sorces of vibration and heat (hydraulics, filtration units, electric cabinets, etc.), which secures a high and long lasting accuracy and reliability.
While being of a very high quality and accuracy the machines are also very competitive and offer excellent price/performance ratioes.
The range of products is:
UNIVERSAL - hydraulic machines for external, internal and face grinding - all in one set-up if so required. Working area is 125 - 250 mm grinding height x 600 - 1500 mm length.
KEL-VISION - a 2-axis CNC machine for external/internal/face grinding with options for automatic production/handling systems. It has a 'cross-support' for the Z- and X-axis and the wheel head can be automatically rotated in increments of 2,5 degrees. Working area is 125 x 430 mm
KEL-VISTA - a 2-axis CNC machine for single and small batch grinding offering an extremely high price/performance ratio. It is standard with R or UR-versions with the wheel head rotation in 2,5 degree indexing (automatic) Working area is 175 mm x 600 -1000 mm. The most compact machine of all?
KEL-VIVA - the latest machine developed, with hydrostatic guideways in both Z- and X-axis for extreme accuracy and long lasting performance. There are options like full B- and C-axis, to accomodate the most complex grinding (unround, profiles, thread grinding, flats, etc.). Two versions og the machine: R and UR with size 175 x 600/1000 mm.
KEL-VARIA the top model with the same hydrostatic guideways and axis configurations as KEL-VIVA, but offering full flexibility to meet special customer arrangements. It has a variety of wheel head configurations like UR, URS, 2R, 2RS, etc. and it lends itself readily to fully automatic production grinding, including workpiece handling systems. The innovative design, flexibility and high precision of KELLENBERGER has earned them a top ranking in the market of grinding.
ELB-SCHLIFF Werkzeugmaschinen GmbH, Germany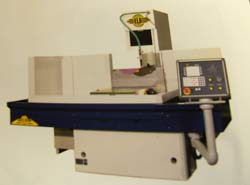 Presently we work with ELB on a project basis.
ELB hae a long standig reputation world-wide of high quality and performance and is indeed well known to norwegian customers having been on this market for very many years.
Todasy ELB is offering machines with an ELB construction principle of table having full support in its full travel, the column taking handling cross movement and the grinding head the vertical movement within the column. The table and cross movement is in V and flat guides whereas the vertical movement is caried out by linear guides to ensure absolut accuracy. The bedd is in Microgranitgiving giving superior dampening and static as well as dynamic stifness.
The machines ranges from the Smart line (suitable for any application), the Juwel Line (the faster approach), the Future Line being the universal, the Rotary Line being the rotary production machine, the Micro-Cuit being the systemized solution for complex profile and creep-feed applications and the Planmaster for very large components in gantry construction. 3 different control systems are available: ELB-Comfort dialog control with easy menu-driven operation, STC grapihc control with a number of programs for profiling and wheel administration and Siemens 840 D the "top of the line" control with interpolation up to 5 axis for complex grinding centres, parametric programs and CAD compatibility. Machine sizes range from 300x500x475 mm up to 1500x3000x650 with up to 4000 kg tableload.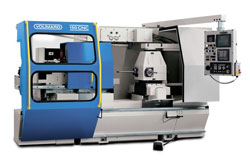 VOUMARD
VOUMARD Machines CO SA, Neuchâtel, Switzerland
A wel-known manufacturer of CNC-controlled internal and face/external grinding machines designed for high precision production grinding with an excelent reputation for quality, reliability and high performance.
Very competent in supplying complete production systems including automatic loading systems and tailor-made solutions.
Thjere are 5 families:
The 100 CNC, 110 CNC and 150 CNC production machines for small componets of Ø<40 mm, Ø< 150 mm and Ø<300 mm respectively with working length of 60 - 1500 mm
The 120 CNC machine for simutaneous internal and external grinding both forward and rear faces. Internal Ø < 150 mm and length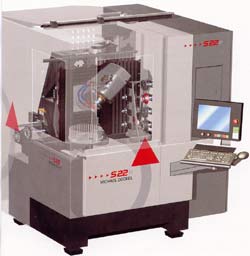 MICHAEL DECKEL
Feinmechanik Michael Deckel GmbH, Weilheim, Germany.
A foremost manufacturer of single lip and tool grinding machines and accessories, with a strong dedication to precision, efficiency and flexibility that have brought them a high reputation in the market and an continuously increasing market share.
The program comprises:
S0/S0E single lip machines, renowned within the engraving business, for grinding single lip cutters, formtools, plunges, sentres, etc.
S5 machine, specially designed for resharpening or regrinding shank end mill teeth and smaller shell end mills. The S5 handles grinding jobs faster, more simply and more economically than conventional or even CNC machines , thanks to a dual spindel head, a unique designed indexing head.
S11 is the ultimate in manual tool grinding, with a unique design that garantees a simple operating platform with short changeover times thus providing the highest results. It is a 'must' where and even in today's CNC-technology it proves it's stand.
S18PCNC-5 is the inexpensive solution to small to medium sized tools and it is the right machine for resharpening shops and ideal for the in-house grinding tasks.
S20P 5-axis machine with a patented vertical principle and all the features expected of a state of the art CNC tool and cutter grinder. It comes with a ultra modern control and versatile and flexible software. In fact, the S20P Turbo was awarded 1.prize at the IMTS show in Chicago 2000 for its user friendliness.
S22P is the latest machine from Michael Deckel with the same vertical design as the S20 but superfast and very accuarate. It holds a 15 kW spindle drive, tool magasin of 24 positions (change over in only 12 s.),workpiece magasin up to 45 places and change over within 5 s. if Pick-Up-loader is choosen, or - up to 240 places with an automatic loading system. It has a fully separated working area from all electrics to provide long lasting operational safety.
The S20 and the S22 has certainly put Michael Deckel up front in tool grinding!