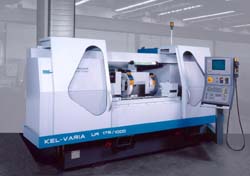 L. Kellenberger & CO. AG, St.Gallen, Sveits
A manufacturer with the highest reputation for their high precision cylindrical grinding machines, which ranges from manually operated universal machines to a family of CNC-machines. All designed for external, internal and/or face grinding for tool room as for production grinding. Up to 4 axis controls to accomodate thread grinding, unround grinding, etc. straight and at angles - all in one operation.
Apart from the universal aspect the machines are indeed flexible, modern and very compact in design to enable quick installations and easy and fast set-up times. The design allows for transport in one piece while once placed on site the machine itself is being completely separated from sources of vibration and heat (hydraulics, filtration units, electric cabinets, etc.). This secures a high and long lasting precision and reliability of these machines.
While being of a very high quality and accuracy the machines are also very competitive and offer excellent price/performance ratioes.
The machine families are:
UNIVERSAL - hydraulic machines for external, internal and face grinding in one operation, with a working area of 125 mm (can be increased to 250 mm) grinding height x 600/1000/1500 mm length
KEL-VISION - a CNC 2-axis machine with GE Fanuc 18TB control for external/internal/face grinding with options for automatic production/handling systems. The machine has a 'cross-support' with the Z- and X-axis under the wheel head, which can be rotated in increments of 2,5 degrees.
KEL-VISTA - a 2-axis machine with GE Fanuc 21i control for singel and small batch grinding offering an extremely high price/performance ratio. It comes standard in R or UR-versions with 2 CNC-axis and indexing of the wheel head. The machine has grinding height of 175 mm x 600/1000 mm length. It is ineed a very compact machine and offers the same quick and easy installation as well as a fully separated machine from vibratrion and temperature infuence.
KEL-VIVA - a new machine with hydrostatic guideways in the Z- and X-axis for extreme accuracy and lang lasting performance. There are no contact between the guides and both axis have a linear measurment of resolution 0,1 micros. The machine has optional B-axis and C-axis to accomodate the most complex grinding (unround, profiles, thread grinding, flats, etc.). There are 2 versions; R and UR with size 175 x 600/1000 mm.
KEL-VARIA the top model with the same hydriostatic guideways and axis configurations as KEL-VIVA,but this machine offer you full flexibility to special customer arrangements, and a variety of wheel heads like UR, URS, 2R, 2RS, etc. Of course it lends itself to fully automatic production grinding with workpiece handling systems. When the machine came on the market it brought KELLENBERGER a well deserved top ranking in high precision grinding.
KEL-VERA the new very compact production machine with hydrostatic guideways and a very flexible adaption to production requirements. Typically the machine is often combined with roboter or pallett magasin to enable unmanned operation. It offers individual table configurations as well as optimal positioning of workhead relative to components. It is available with both Haidenhain and Fanuc controls up to 4 axis, a powerful grinding spindle of 10 kW and workpieces up to 250 kg.
ELB_SCHLIFF Werkzeugmaschinen GmbH, Deutschland
(Wir arbeiten mit ELB bis weiterhin auf Projektbasis)